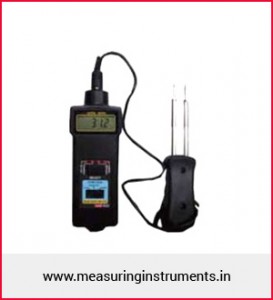 Moisture meters are used to calculate the percentage of water in specified material. This information can be utilized to classify in case the material is ready to use, suddenly wet or dry, or else in needing further evaluation. Wood and paper items are extremely touchy to their moisture content. Physical properties are strongly affected by moisture content and high moisture content for a period may logically corrupt a material.
We offer this instrument from the main leading companies of India. We are the moisture meter supplier of this product at hugely economical cost as well as confirm timely delivery. Our offered product is required by our customers on a huge scale because of its immense operational exactness and magnificent results.
Features:
Highly accurate.
Automatic temperature compensation.
Applicable for many varieties like wood, water, food etc.